At this point—whether you're a tech guru or a newbie to website development, you know the importance of PageSpeed. Google has made it clear repeatedly. Want people to remain on your website, reduce bounce rates, and increase user satisfaction? Your website better be fast. Want to increase conversion rates and bring in revenue? That website better load quickly. Want to rank higher on Google and have effective ads? You guessed it – that website better be fast!
So…what to do? When considering speed optimization solutions, one thing to look out for and avoid are plugins or "solutions" that only improve the frontend of a website, leaving the backend high and dry…and slow. Your website deserves more than a surface-level fix, and we're here to tell you that when it comes to PageSpeed, you should never settle.
It is possible to have it all. An all-around optimization solution that speeds up any website, improving both frontend and backend does exist.
We're so proud to unveil the 10Web Booster! The 10Web Booster helps website creators increase the PageSpeed score of any website and pass all Core Web Vitals. The best part? You can optimize your website with the 10Web Booster on any hosting! By combining frontend optimization with backend optimization, 10Web provides users with the A-Z of performance optimization. 10Web's automated speed optimization gets websites in the top 1% of the fastest loading sites (90+ PageSpeed scores), enhancing the visitors' user experience, SEO, engagement, and conversion rates.
But let's rewind for a second.
Maybe you're asking yourself "does my site really need to be so fast?" We're here to tell you, without a smidgen of doubt, absolutely, yes! Let's cover the basics:
The Need for Speed
Google truly cannot be any clearer than this on why speed matters. This is how the tech giant defines speed in three categories:
1-49 (over 4 seconds): slow
50-89 (2.5 to 4 seconds): average, needs improvement
90-100 (under 2.5 seconds): fast
Despite speed being an absolute priority in Google's algorithm, the average website still has a PageSpeed score between 40 to 50 for mobile and desktop. Google has confirmed that "53% of visits are abandoned if a mobile site takes longer than three seconds to load", which essentially translates to anything with a PageSpeed score of less than 90.
Google equates low speed scores to a "huge missed opportunity". Why? When users encounter slow websites, they are "much less likely to find what they are looking for or purchase from you in the future." And what does this mean for agencies or businesses in general? According to Google:
Advertising and speed go hand in hand, with faster landing pages delivering better ROI.
A fast website is starting to sound so much more important now, right? With the 10Web Booster, websites will be in the top 1% of fastest loading sites, so you can rank higher, decrease bounce rates, improve ad conversions, and remain in Google's good graces!
Now that we are in agreement on why speed is crucial for any website, let's take a behind-the-scenes look at what exactly is included with the 10Web Booster.
Guide to 10Web Booster
The 10Web Booster has two options: Free and Pro.
With the FREE 10Web Booster plugin, you get:
Free frontend optimization of up to 10 website homepages + 5 inner pages each
Caching for all websites
Improved Core Web Vitals
90+ PageSpeed score
Ability to optimize your website on any hosting
With 10Web Booster Pro, you get premium frontend optimization for all pages, as well as backend optimization for the websites migrated to the platform, which includes:
Backend speed optimization with 10Web Automated Hosting:
TTFB faster than 200ms
Server performance acceleration
WordPress performance booster
With 10Web Booster Pro, you also get access to all the features that come with 10Web's platform! This includes the first-ever AI-Powered WordPress Builder, User & Team Management, White Labeling, and so much more!
Pretty incredible, if we do say so ourselves! Ready to boost your website's speed with 10Web? Great! The process couldn't be smoother:
Direct Installation of 10Web Booster from WordPress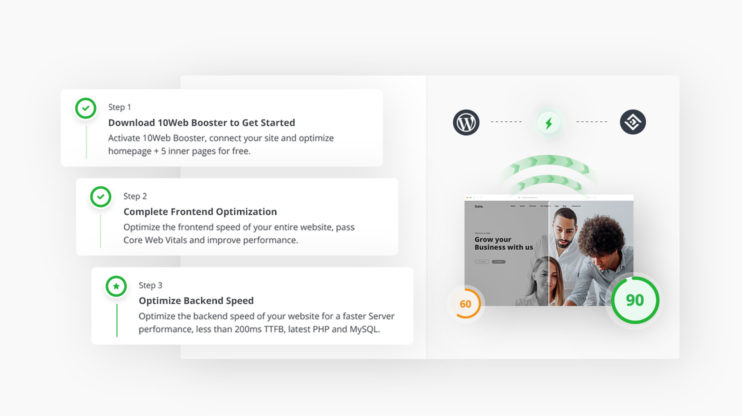 You can conveniently download 10Web's Booster from WordPress! Just follow these steps to get your website optimized:
1- Download, install, and activate the 10Web Website Booster plugin from WordPress.org. You will be redirected to the plugin main page and asked to connect the website to 10Web.
2- After signing up, the process of frontend optimization will begin and you will receive the Free Optimizer Plan. You can then add and optimize 5 inner pages as well as up to 10 websites with their inner pages in the Free Optimizer Plan.
3- If you wish to complete the optimization of all website pages on the backend as well, you can opt for 10Web Booster Pro. In this case, you will simply need to upgrade from the Free Optimizer Plan to any of our three platform plans: Personal, Premium, or Agency.
And that's it! You are ready to enjoy all the perks of an all-encompassing speed booster and website optimization!
Take Your Website(s) To The Next Level With The 10Web Booster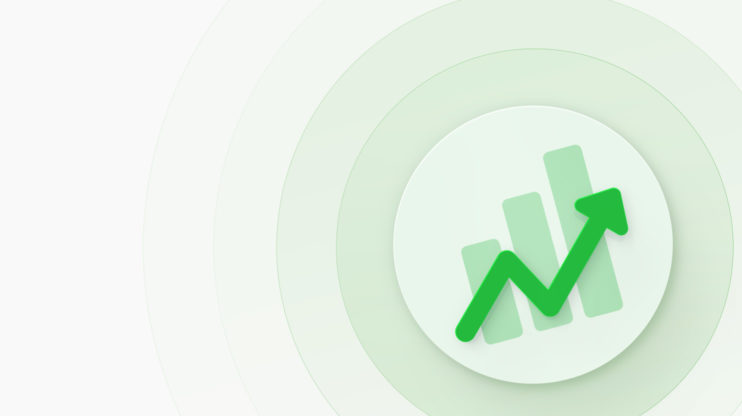 No matter what your focus, a fast website is truly the difference between staying ahead of the competition—or even staying afloat! Remove all the complications and unnecessary manual work by opting for the 10Web Booster, that does all the heavy lifting for you—automatically. Try out the free version, and when you're ready to soar to new heights, you can upgrade to try it combined with 10Web's AI-Powered Platform, the first of its kind.
10Web Booster is here to deliver on its promise: a boost in the right direction! Isn't that just what your website deserves?
Need a 90+ PageSpeed score?
With 10Web, you can get it automatically!